Konstantin Chaykin Levitas 'Mystery' Watch
The superb Levitas 'Mystery' watch from Russian Master Watchmaker and AHCI member Konstantin Chaykin is an intriguing work of seductive smoke and mirrors and a wonder of technical execution from the hands of one of the world's foremost innovative watchmaking talents.
As clever as it might be technically, the first thing one sees in the Konstantin Chaykin Levitas is a watch of whose styling recalls the age of art deco and carefree abandon and it poses a delightfully teasing puzzle to bemuse the uninitiated.
The dial, which is offset to the left is fully transparent through to the back and the hands appear to stem from.... well, nothing! It begs the one word dilemma "How?" In fact, the more you think about it the hands do move as if levitating (Levitas), unattached to any means of propulsion and once considered, something must be making it happen, but what?
The answer to the puzzle is as ingenious as it is obvious once Levitas has revealed her secret, because the reason that the dial is offset is not purely aesthetic, it is because every component in the mechanical heart of the watch has been created in miniature and set off towards the crown, and its gears engage with two perfectly transparent sapphire discs with painted stencil hands; one for the hours and one for the minutes.
The proprietary crescent like KMR 02-0 manual winding calibre is a real accomplishment in its execution. It has been entirely conceived and created in house; its plates, bridges and tiny components fashioned in diminutive detail and lovingly hand finished to a standard only to be found from the finest watchmakers in the world, which Konstantin Chaykin surely is. He even finds a way to incorporate a moonphase and still manage an impressive thirty-three hour power reserve from the confines of its tiny barrel.
Encased in a round 44mm 18kt white or rose gold case, Levitas is available with the option of blue, brown or black face.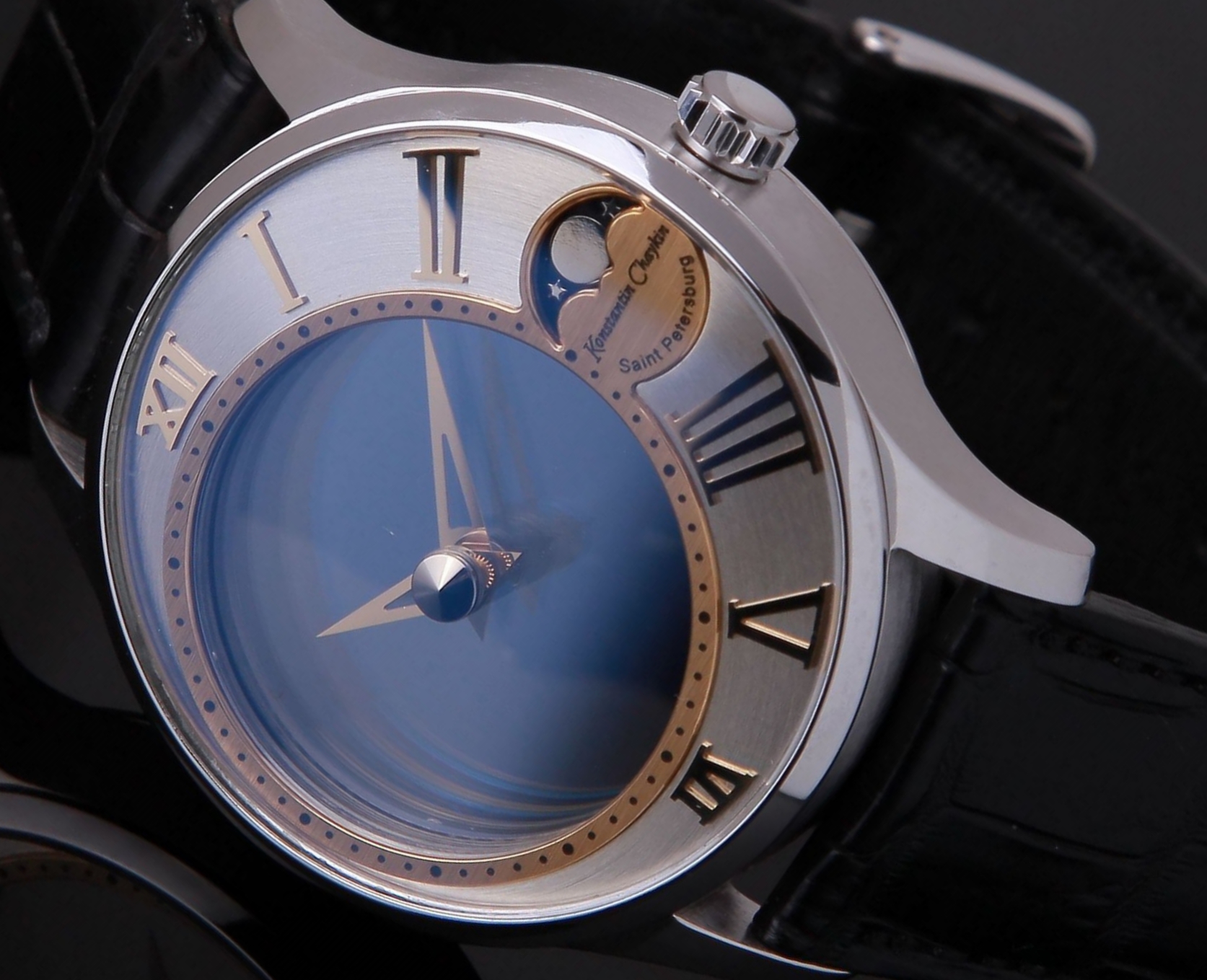 Considering the fact that Konstantin mastered his trade amid a disjointed Russian watchmaking industry with no formal training infrastructure to nurture new generations, the invention and improvisation - not to mention the absolutely meticulous finesse which goes in to every Konstantin Chaykin piece is pretty astonishing. Here are entirely new solutions to the art of watchmaking, using in house designs and hand made calibers which continue to push the frontiers of horology and Chronolux Fine Watches are excited to be appointed to offer these exceptional works of horologic art.
It's an honour to be able to work with this man. I have no doubt that he is one of a very small number of true inventors of horology still around today and his gift is both extraordinary and totally unique.
Konstantin Chaykin Levitas: Technical details
Movement
Calibre: KMR 02-0
Jewels: 29
Power Reserve: 33 hours

Case
18K rose gold with sapphire crystal and exhibition caseback
Dimensions: diameter 44mm

Functions
Hours, minutes, moonphase

Dial
Double 26.5mm sapphire discs with stencil hands, applied gold roman numerals