Konstantin Chaykin Genius Temporis
The sublime Genius Temporis watch from Master Watchmaker Konstantin Chaykin is a masterpiece of extraordinary beauty, presence and unique functionality, showcasing the horological invention of one of the world's most innovative watchmaking talents.
Genius Temporis is very much styled in the fashion of the seventeenth century pocketwatch, which often used a single hour hand on a twelve-hour dial to compensate for the relative inaccuracy of a two-hand watch of the time. Such watches 'indicated' the time more than actually precisely telling the time, yet they left a strong impression on the Moscow based watchmaker and provided the inspiration to honour its memory - albeit with a novel complication - in the Genius Temporis watch.
To overcome the problem of absolute precision, which is an inbred characteristic of the single hand genre, Konstantin Chaykin devised a solution which, at the press of the pusher at 2 o'clock, would instantly convert the function from its default hours to indicating the precise minute for as long as the pusher was held in, and then revert to its original setting once released.
The single pointer extends across most of the dial and is tipped with an arrow head at each end; the longer end for the hours, the shorter for minutes, so despite the unusual complication, readability is simplicity itself.
Encased in 18Kt rose gold, Genius Temporis (or zeitgeist/spirit of time) boasts an elaborately appointed hand engraved bronze dial, the hours demarcated in twelve individual hand applied brushed silver plates, with engraved roman numerals painted in black lacquer on a silver outer ring, and the minutes slightly closer to the centre.
Inside the 44mm case, the proprietary K01-5 manual winding calibre has been entirely conceived and created in house, its plates, bridges and tiny components lovingly hand finished to a standard only to be found from the finest watchmakers in the world, which Konstantin Chaykin surely is.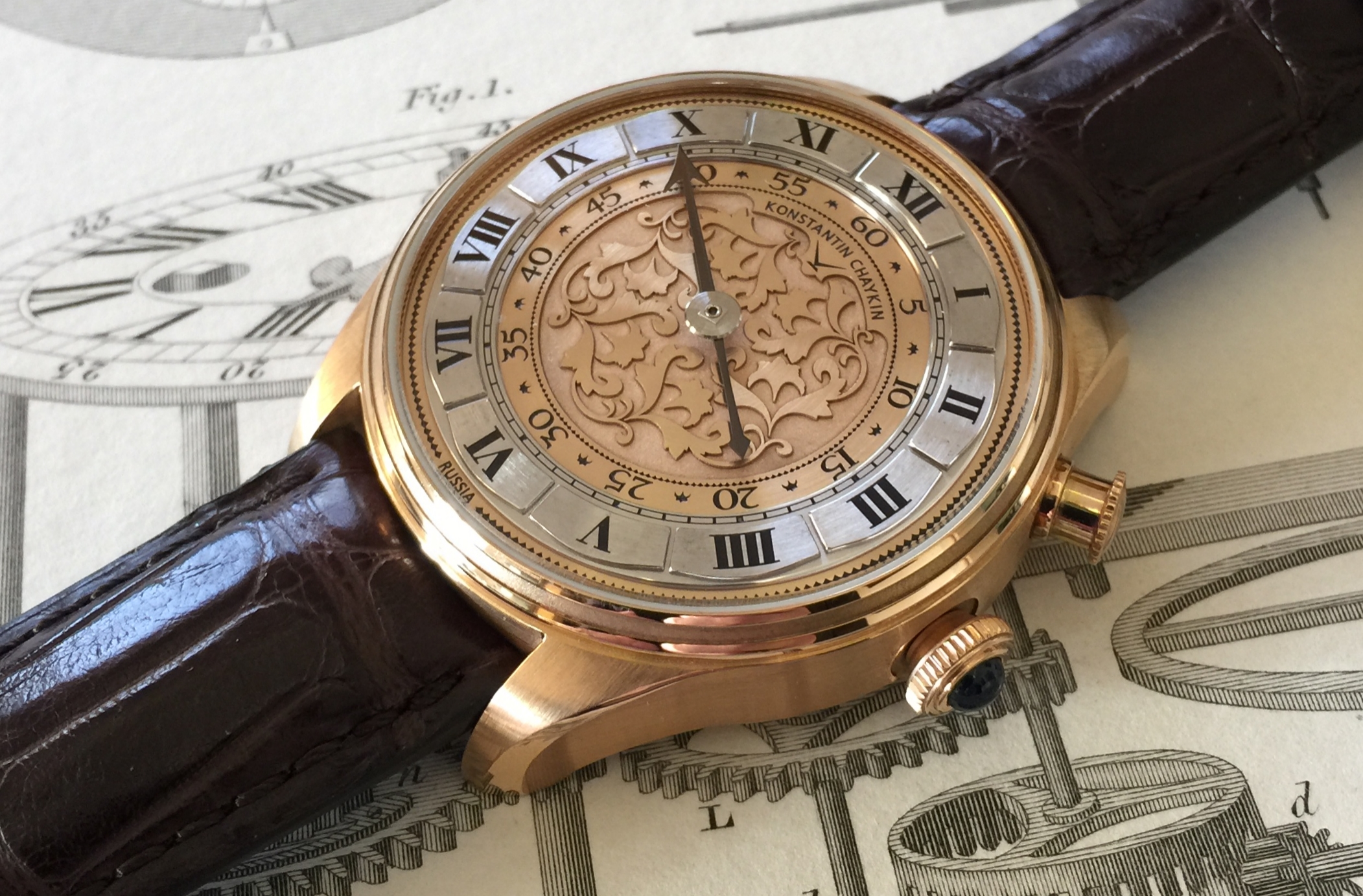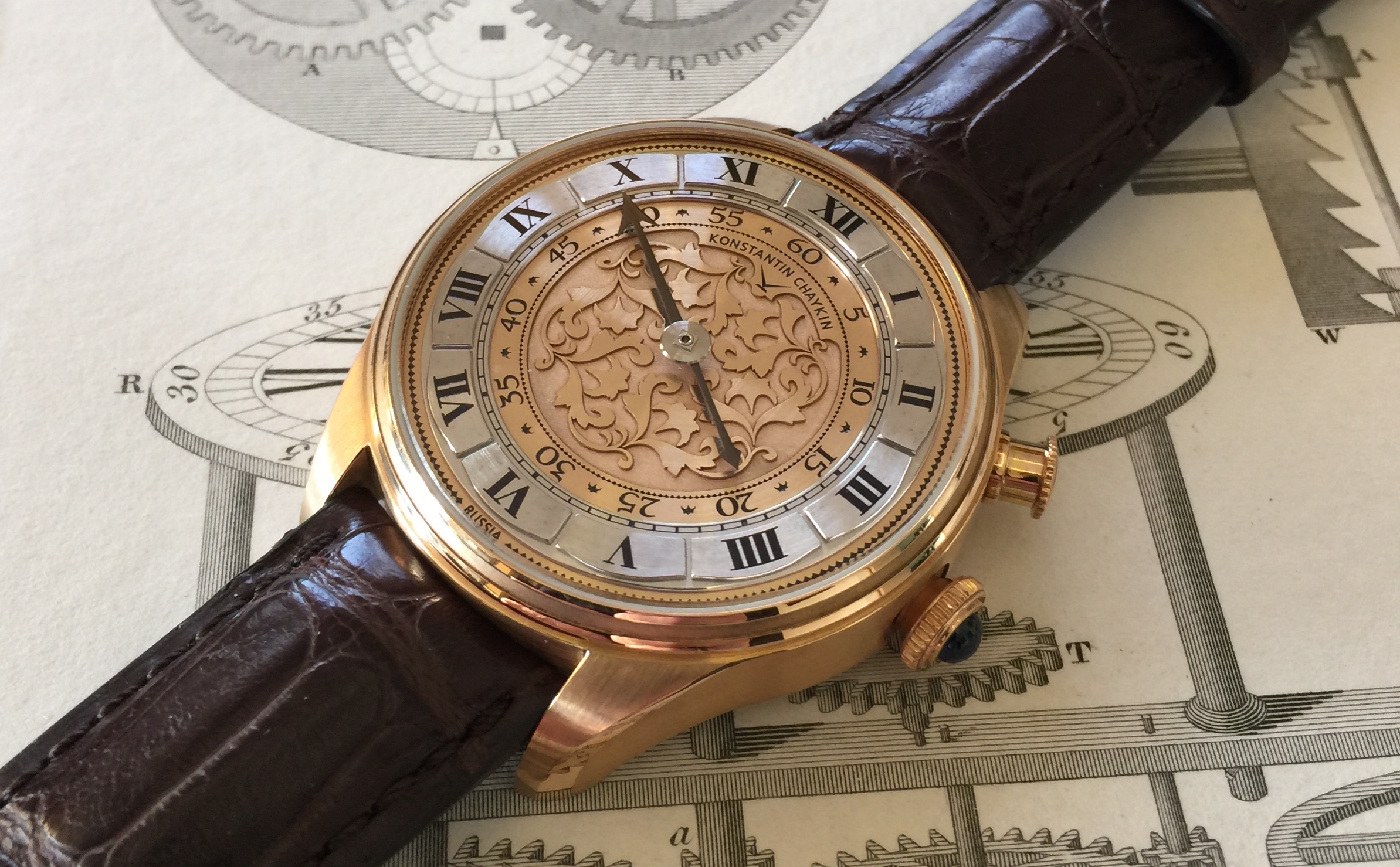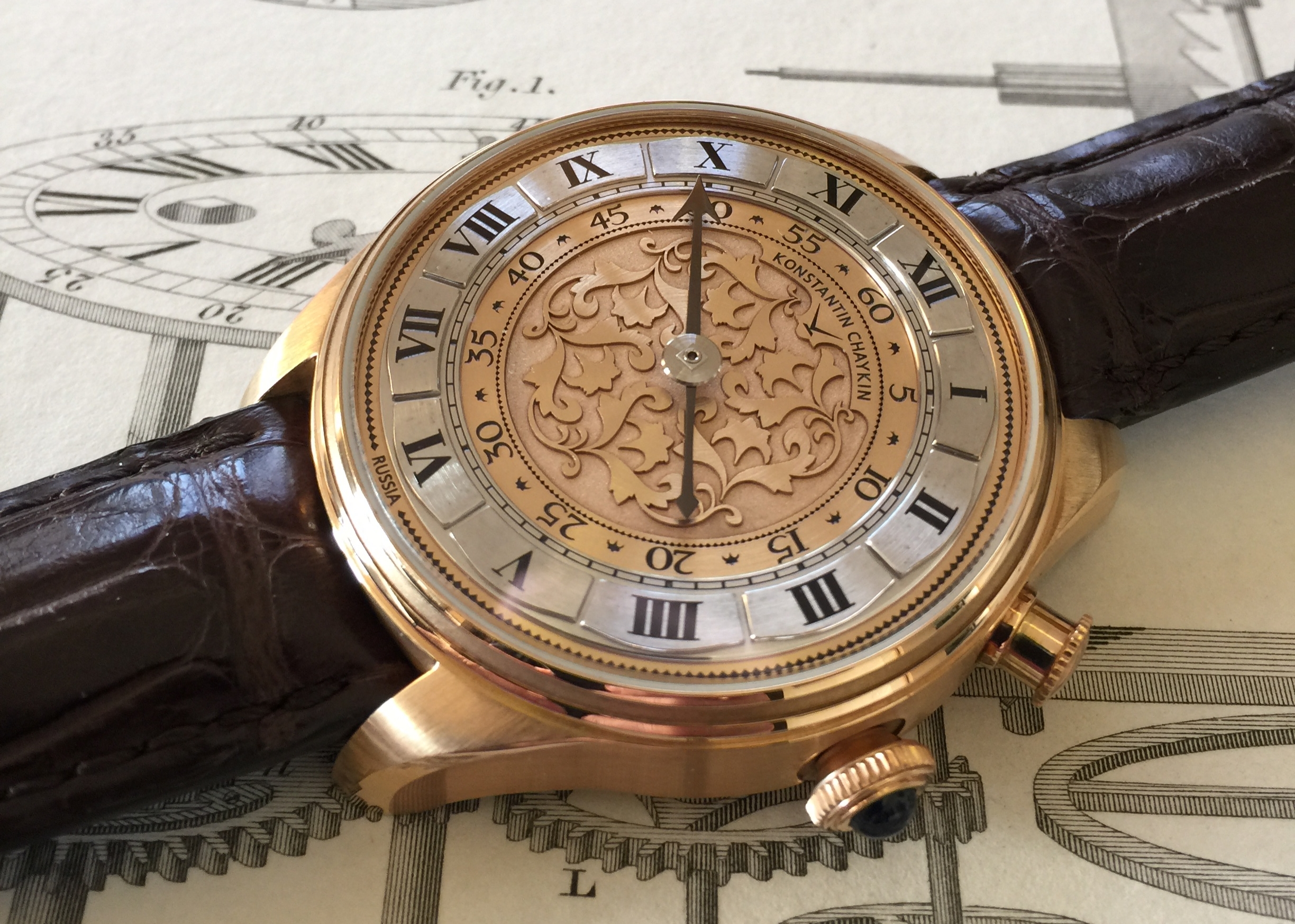 To simply refer to Genius Temporis as a watch would be to ignore the fact that it is every bit as much true horological art, and it is no exaggeration to say that, as is a signature of its creator, its like has never been seen before.
Considering the fact that Konstantin mastered his trade amid a disjointed Russian watchmaking industry with no formal training infrastructure to nurture new generations, the invention and improvisation - not to mention the absolutely meticulous finesse which goes in to every Konstantin Chaykin piece is pretty astonishing. Here are entirely new solutions to the art of watchmaking, using in house designs and hand made calibers which continue to push the frontiers of horology and Chronolux Fine Watches are excited to be appointed to offer these exceptional works of horologic art.
It's an honour to be able to work with this man. I have no doubt that he is one of a very small number of true inventors of horology still around today and his gift is both extraordinary and totally unique.
Konstantin Chaykin Genius Temporis: Technical details
Movement
Calibre: K 01-5
Dimensions (mm): 36 x 7.8
Materials: gold, stainless steel, brass, bronze
Escapement: lever (anchor)
Jewels: 29
Power Reserve: 48 hours

Case
18K rose gold with sapphire crystal and exhibition caseback
Dimensions: diameter 44mm

Functions
- Hours
- Minutes on demand

Dial
Hand engraved brass with silver plate hour ring, black lacquer roman numerals, inner minutes