Konstantin Chaykin Lunokhod
The Konstantin Chaykin Lunokhod is an astonishing luxury watch of extraordinary design, dominated by its unique spherical moon phase display and retrograde hours, it is a showcase for the talents of one of the world's most prodigious and respected watchmaking innovators.
The Lunokhod was the name given to Russia's 1970s lunar rover, and its successful deployment on the surface of the moon was a major source of national pride at a time when the space race was at its most intense, and years later the impression it left on Master Watchmaker Konstantin Chaykin would result in his own astonishing tribute to the famous space project.
Lunokhod is a truly unique timepiece in which Konstantin Chaykin has captured a genuinely other-worldly persona with its alien form and the unfamiliar texture of the hand forged wootz steel case. Centre stage sits a dominating sapphire crystal dome and inside the spherical wootz steel moon. A hemispheric rhodium coated silver shell rotates fully around the orb to replicate the phases of the moon in a fabulous 3d display,
Hours and minutes are displayed in separate panels, with the minutes located on a dial beneath the moon and the hours in a semi-circular arc above. The 24 hour display with its gold painted numerals quickly becomes familiar, and the single 'hand' with a sun at one tip and a crescent moon on the other representing am and pm.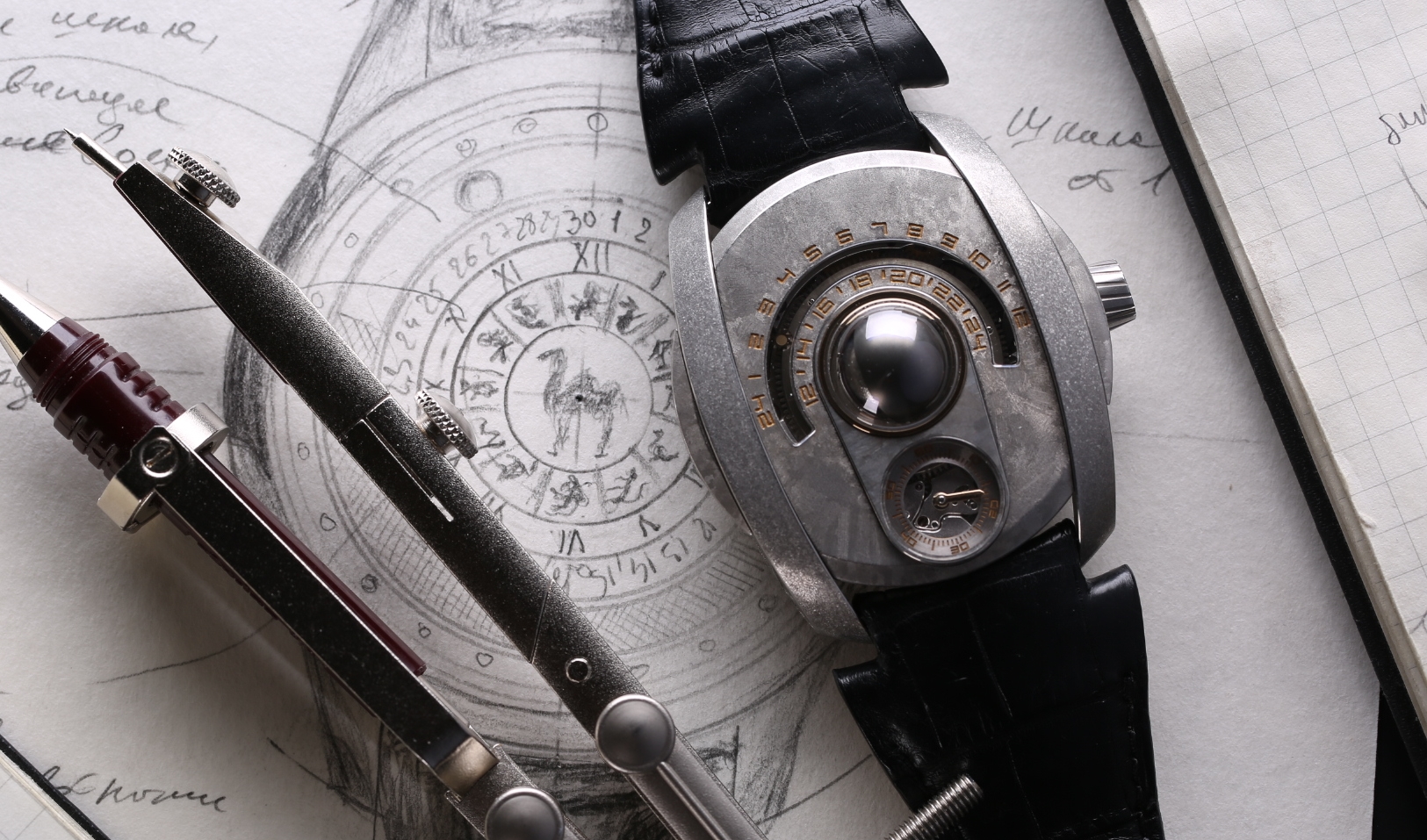 The proprietary KL1 04-0 manual winding calibre is visible through the transparent exhibition caseback, and has been entirely conceived and created in house; its plates, bridges and tiny components fashioned in diminutive detail and lovingly hand finished to a standard only to be found from the finest watchmakers in the world, which Konstantin Chaykin surely is.
Considering the fact that Konstantin mastered his trade amid a disjointed Russian watchmaking industry with no formal training infrastructure to nurture new generations, the invention and improvisation - not to mention the absolutely meticulous finesse which goes in to every Konstantin Chaykin piece is pretty astonishing. Here are entirely new solutions to the art of watchmaking, using in house designs and hand made calibers which continue to push the frontiers of horology and Chronolux Fine Watches are excited to be appointed to offer these exceptional works of horologic art.
It's an honour to be able to work with this man. I have no doubt that he is one of a very small number of true inventors of horology still around today and his gift is both extraordinary and totally unique.
Konstantin Chaykin Lunokhod: Technical details
Movement
Calibre: KL1 04-0
Jewels: 31
Power Reserve: 48 hours

Case
Hand forged wootz steel, with sapphire crystal dome and exhibition caseback
Dimensions: width 44mm, top to bottom 50mm, height 13.5mm

Functions
Hours, minutes, moon phase, am/pm

Dial
24 hour am/pm display, decentralized minutes, spherical wootz steel moon